Profile
Schäfer Consult - Dipl.-Ing. Volker Schäfer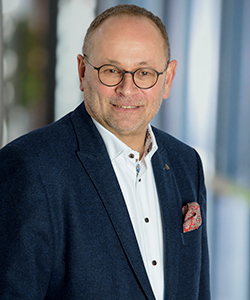 Schäfer Consult conducts consulting and services in the field of construction technology and construction contract management, particularly in terms of asphalt and block pavements at construction and maintenance of traffic areas. This includes especially the consulting of institutions calling for tenders during the preparation of construction contracts, the management of larger construction projects in the field of asphalt and block pavements, and the implementation of research projects.
Beyond, the contribution in relevant technical committees of the "Forschungsgesellschaft für Straßen- und Verkehrswesen" (FGSV, research association for roads and traffic) and the provision of advice on the conduction and management of association business are among Schäfer Consult's activities.
Additionally, Schäfer Consult is predestined for the holding of trainings and seminars to all topics regarding asphalt road construction. At it, the intended target group is not only the decision-makers but also the operational area.
Professional background
On 01.01.2001, Dipl.-Ing. Volker Schäfer, who is an expert on the subject of road construction and quality control, became self-employed and set up its own engineering office for the construction and maintenance of traffic areas, aircraft operational areas, and port areas
consulting engineer and since 2003 officially appointed expert for asphalt constructions in the field of traffic route engineering
2005 to 2021 lecturer for the lessons contractual implementation and production and laying of asphalt of the asphalt technology postgraduate education program. (for further information: www.asphaltstudium.de).
mid 1993 to end 2000 head of the construction technique and quality control department of a larger medium-sized company of road construction and production of road materials based in Northern Germany

coordination of the nationwide development and marketing activities relating to asphalt road construction and support of the affiliated construction companies as well as asphalt plants focusing on solutions beyond daily routine
implementation and application of new construction methods, elaboration of specific technical solutions with the acquisition of orders, realisation of supplementary claims, complaints processing, and contact maintenance along with all activities in association and committee work
organisation and implementation of a quality management system according to DIN ISO 9001 for construction companies, asphalt as well as concrete plants with simultaneous review of the entire contract management
support and consulting of responsible construction companies in the course of the six-lane extending of the motorway A 2 between Hannover and Helmstedt concerning engineering problems of asphalt and the further development as well as application of porous asphalt surface courses containing high polymer-modified bitumen. Due to intensive discussions held with the Lower Saxon Federal State Authority for Road Engineering and Traffic Development the polymer-modified bitumen PmB 45 is now used as standard binder in asphalt surface courses as well as binder courses in case of heavy loaded pavements.
supervision of the production of polymer-modified bitumen for a well-known bitumen manufacturer as well as the group's own use
development activities for the implementation of asphalt in cold paving technology using bitumen emulsion or foamed bitumen

1988 to mid 1993 at a company specialised in maintenance of asphalt pavements, development and nationwide marketing of surface dressing and thin asphalt layers on spray seal, hot on hot.
1986 and 1987 site manager for earthworks and asphalt road construction
Since 1991 comprehensive cooperation in expert committees of the "Forschungsgesellschaft für Straßen- und Verkehrswesen" (Road and Transportation Research Association) and the "Deutscher Asphaltverband" (German Asphalt Pavement Association) in order to contribute both experience and interests of the end user to the updates of the technical rules and codes

since 2008 head of the committee AA 7.5 "maintenance technology" of the task force asphalt construction methods and member of the corresponding steering committee
2006 to 2010 head of the task group AK 7.3.5 "compact asphalt"
since 2007 head of the task group AK 7.3.6 "porous asphalt"
since 2021 head of the committee AA 4.10 "pavements for port, logistics and industrial areas" of the task force infrastructure mangemant and member of the corresponding steering committee

numerous presentations and lecture activities in the context of national and international conferences and congresses as well as execution of seminars for the further training of employees in asphalt trade and industry